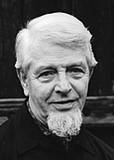 Carlo Perris grew up in southern Italy, studied medicine in Pavia and then moved to Sweden.
He began his psychiatric career at a mental hospital in Sundsvall. In 1963 he moved to Umeå where he became Professor of Psychiatry in 1971. His main interest as a researcher was the study of affective disorders. Notably, he showed that cycloid psychosis, with its complex mix of symptoms (mood change, confusion and severe psychotic symptoms) could be looked upon as an affective disorder and treated effectively with antidepressant drugs and lithium.
The concept of vulnerability was of great interest to Perris. His research on affective disorders gave him a clear picture of the genetics behind vulnerability for these and other psychiatric disorders. Yet, he also understood the importance of psychological childhood factors as part of individual vulnerability. Through his interest in early psychological experiences as part of individual vulnerability, Perris became deeply fascinated by the works of John Bowlby, the founder of the attachment theory. Moreover, psychopathological developmental theory emerged as a major theme in Perris' work and writing.
In his work Perris showed a wide range of talents and ambitions. He was not only a researcher but was also a true clinician and a creative leader of his clinic in Umeå. In the early 1980s he began his work in bringing Beck's cognitive psychotherapy to Sweden. Subsequently, he published two books on cognitive psychotherapy and many papers in international psychiatric journals on topics, related not only to cognitive therapy but also to biological psychiatry.
Carlo Perris had a vast network of international contacts. He was also a well-known participator in the organization of numerous international congresses, among which the 3rd World Congress of Biological Psychiatry (Stockholm, 1981).